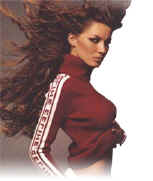 The Secret of Their Beauty
Sometimes when you watch TV shows, you will not sleep well after that. On the bed, you keep on wondering, why celebrities look so beautiful. Do you want to know what they secrets are?
Julia Roberts: Do you want to have beautiful nails? Just follow her secret recipe. Wet your nails with olive oil.
Nicole Kidman: She has got red sexy hair. She washes her hair with cranberry juice.
Michelle Yeoh: She cleans her face by using lemon juice and fresh water.
Catherine Zeta Jones: Her teeth always look clean and white. She brushes her teeth with strawberry. It is the best natural whitening solution. LCR
keep on wondering: terus bertanya-tanya secret: rahasia
brush: menggosok olive oil: minyak zaitun solution: larutan