Kalau Anda berminat menerima artikel belajar bahasa Inggris ini secara teratur, isilah FORMULIR BERLANGGANAN.
Christina Ricci - An Unusual Star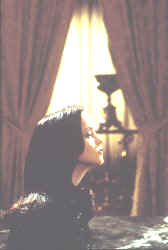 Christina Ricci is an unusual film star. She has short legs and a round face. When she smiles, she is very pretty. But when she is serious, her eyes seem strange and frightening. She is only 20 years old, but she has already been in 29 films. What is the secret of her success? And is she really as strange as she looks?
Christina was born in 1980 in California, USA, the youngest of four children. 'I had a strange childhood,' Christina remembers. 'I was never close to my mother or father. But I loved acting. I was lucky. A Hollywood agent saw me in a school play when I was six years old...'
Christina's first film was Mermaids (1990) with the famous singer and actress Cher. She became famous as Wednesday – the serious-looking girl in The Addams Family (1991) and The Addams Family Values (1993). 'The director told me to show no feelings,' Christina remembers. 'That was easy.' After Casper (1995), Christina disappeared from films for a short time. She tried to get parts in Romeo and Juliet, Jurassic Park and Titanic, but without success. Slowly, she began to be successful again. She was in The Ice Storm (1997), with Kevin Kline. In Buffalo 66 (1998), she was very good – as a girl who shows no feelings again! In the same year, she played a pregnant teenager who destroys her family's lives in The Opposite of Sex, and a girl called Lucy in Fear and Loathing in Las Vegas. Then, in 1999, she was in Sleepy Hollow with her good friend, Johnny Depp. It was a big success. In this film she was a princess. 'At last, I played a woman who is not strange,' Christina laughs. 'Film-makers usually ask me to play strange, mysterious people. But I'm not strange in real life.'
Christina tries to live an ordinary life in New York, away from Hollywood. But she is becoming one of the busiest actors in America. She acted with Johnny Depp again in The Man Who Cried (2000). People can now see her in Bless the Child. She plays . . . another strange girl with a dark, mysterious side!
Not many famous child actors become successful adult stars. But, like Jodie Foster, Christina has succeeded. What is her secret? 'I'm not interested in my characters' feelings,' Christina explains. 'I'm completely different to my father. He was a psychiatrist. He understood people's feelings, but he left home when I was 13. I haven't seen him for five years. Maybe that's why I'm not interested in my characters' feelings. I just try to play reality.'
Christina is making a new film now – Pumpkin. In this film, she plays a cheerleader. 'But a cheerleader with a dark side,' she jokes . . .
Penguin Dossiers; © Copyright Pearson Education Ltd 2001; Photograph of Christina Ricci in The Man Who Cried © Copyright McDonald & Rutter
star: bintang
childhood: masa anak-anak
agent: agen pencari bakat
director: sutradara
pregnant: hamil
character: karakter
psychiatrist: psikiater
reality: berdasarkan kenyataan
cheerleader: pemandu sorak