DANGUE FEVER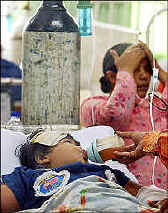 After the earthquake in Nabire- West Papua, North and West Sumatra, Indonesian are facing outbreaks of dangue fever.
This disease is caused by a virus inside mosquitos. The symptoms are high fever, red spots all over the patientís body and blood vomit. Besides flood during the rainy season, people must aware of the cleanliness of their house and the surrounding environment. But the disease is expanding rapidly. Many hospitals do not have enough facilities to anticipate such a large number of patients in their wards.
The ministry of health tries to prevent more casualties by spraying anti-mosquito smoke in areas where the disease is suspected to expand. Unfortunately, the disease has spread throughout the country. It seems that the prevention efforts are failed.
In addition, Indonesian people tend to ignore this disease. They give more attention to such issues as the recent earthquake and tsunami in Acheh, and the new year celebration.
A child who is suffering dengue fever is being cared beside her mother at a hospital in Jakarta. The death toll from a dengue fever outbreak in Indonesia has risen to 400 and has hit almost every province, the health ministry said.(AFP/File/Adek Berry)
dangue fever: demam berdarah symptoms: gejala
outbreaks: menyebarnya, mewabahnya caused by: disebabkan oleh
red spots: bintik-bintik merah vomit: muntah
surrounding environment: lingkungan sekitar
wards: bangsal-bangsal suffer: menderita