Kalau Anda berminat menerima artikel belajar bahasa Inggris ini secara teratur, isilah FORMULIR BERLANGGANAN.
Formula 1: Man and Machine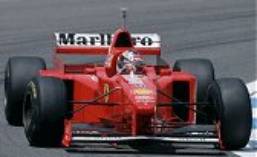 To win in Formula One, you need the perfect driver and the perfect car. Last year that meant Michael Schumacher and Ferrari. Can the man and the machine do the same this year? Will Schumacher and Ferrari rule this season, too?
In a way, Formula One is a race between teams of engineers. The different teams try to make their car the fastest and the best. Ferrariís Formula One car is a wonderful machine. Jean Todt is the Sporting Director of the Ferrari team. The first Grand Prix race of the season was on 4 March in Melbourne, Australia. Before this race Todt said that this yearís car was fast enough to win the pole position. And then win the race. He thinks that this is Ferrariís fastest car in the last few years. The car is ready Ė what about the driver?
Michael Schumacher has had a big problem this year. He had to pay £1.3 million to a company for breaking an agreement to wear their helmets. This wasnít Schumacherís first problem in the sport. He has been in trouble with race officials after crashes in races. The first was with Damon Hill in 1994 at the Australian Grand Prix. Schumacher still won the race. Then in 1997 he crashed with Jacques Villeneuve. After that accident, Grand Prix officials didnít let Schumacher drive in the next race. In 1999 he crashed again, this time during the British Grand Prix, and broke his leg. But many people still think that Schumacher is the best driver in the world.
Todt was right about his car for the first race of the season Ė Schumacherís Ferrari started the Australian Grand Prix in pole position. There was one problem. Schumacher put his hand up during the race. At first the team was worried that the car had a serious problem. In fact, Schumacher was having more helmet problems! But the race still went well for the team. Schumacher was far in front of the other cars, so he didnít drive hard in the later laps. He still won the race by over 1.5 seconds. But there was sadness on the day because an official was killed in an accident during the race. Schumacher won the second race of the season too. The Malaysian Grand Prix on the 18 March.
So the perfect man and machine made a great start to the season. But will Schumacher and Ferrari celebrate at the end of the season? Todt is sure that there are no problems with the car. The question is Schumacher. Can he stay out of trouble and drive Ferrari to success again? He thinks that he can. Now every other Formula One driver wants to prove that he is wrong.
formula one: the fastest racing cars
engineer: teknisi
sporting director: orang yang menuntun pengemudi dengan memberitahukan apa yang harus dilakukan
grand prix: balapan formula satu yang besar
helmet: topi yang keras untuk menjaga agar kepala tetap aman
(race) official: seseorang yang membuat orang dalam suatu balapan menaati peraturan
lap: satu putaran
celebrate: merayakan
Penguin Dossiers © Copyright Pearson Education Ltd