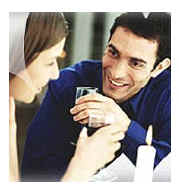 Is he the one that you are looking for?
That handsome man smiled at me. It made me like a feather flying in the air. Suddenly, my cheek turned red. I couldn't control my walk. After going out together for several times, he said that he loved me. I looked straight into his eyes. Then, I said "I love you too."
Gee, wait a minute! It is better for you to consider about this first. You have to check whether his statement is true or you'll be sorry one day. Below is the explanation from Paul Joanndes, Ph.D, the author of Guide to Getting It on.
1. A good listener. When you speak, his eyes will focus on you. He will listen carefully to every word that you mention. So, you don't have to repeat it twice. It is a good sign!
2. On time. When you have a date with him, he will come early or at least on time. If he comes late, he will let you know before it happens.
3. No compelling love. If your body is slightly heavier than usual, he will not criticize it as long as it is still proportional to your height. Don't let him give too much criticism. You can refuse him, if it is necessary.
4. Body Language. It is a natural sign. If he really loves you, he will appreciate you. He will control his behavior. He will make you feel comfortable when you go out with him. Maybe, he is the one that you are looking for. So, don't waste your time. Charles R. (Hanya wanita)
Is he the one that you are looking for? : Apakah dia yang kamu cari?
feather: bulu cheek: pipi going out together: kencan consider: mempertimbangkan
whether : apakah mention: sebutkan behavior: perilaku explanation: penjelasan
compel: memaksa refuse: menolak appreciate: menghargai comfortable: nyaman