ST. PATRICK'S DAY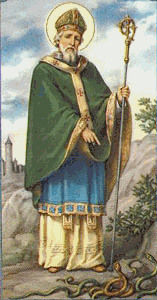 March seventeenth, is Saint Patrick's Day. This day honors the man who brought Christianity to Ireland in the fifth century. It is observed as a religious holiday in Ireland. It is not an official holiday in the United States. But. Mny people see it as a time to celebrate.
About twelve percent of Americans claim Irish ancestry. The Census Bureau says the state with the highest share is Massachusetts, at twenty-four percent. Irish immigrants first celebrated Saint Patrick's Day in Boston, Massachusetts, about two-hundred-fifty-years ago.
You know it is Saint Patrick's Day in America when you see lots of the traditional Irish color, green. People wear green clothes. Some put green in their hair or on their faces.
Some drinking establishments put green in their beer. The city of Chicago puts green in its river. An Irish meal of corned beef and cabbage is traditional on Saint Patrick's Day. And many people attend parties.
Some cities have parades. New York City has the biggest. It dates to seventeen-sixty-two. It began with soldiers of the New York State Militia who were from Ireland. Parades spread as more Irish people came to America.
They settled in big cities. Many became firefighters, police officers and city leaders. But many Protestant Americans did not welcome the Catholic Irish. So Saint Patrick's Day parades became more than simply a show of celebration for these newcomers.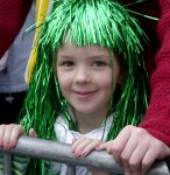 In New York each year, thousands of people march along Fifth Avenue. Hundreds of thousands more gather along this major street to watch. Many of these Americans are not really Irish. But they like to say that everyone is a little bit Irish on Saint Patrick's Day.
observed (passive): dirayakan, diperingati
rish ancestry: keturunan irlandia
attend parties: menghadiri pesta-pesta
settle: menetap, bermukim irefighter: pemadam kebakaran
march: berpawai ghest share: prosentase tertinggi
newcomer: pendatang baru pread: menyebar