Michael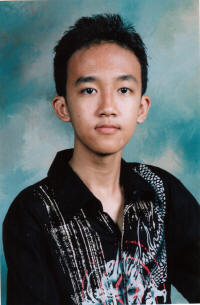 "I want to study in Australia"
Hello, my name is Michael. I was born in Malang on June 24, 1990. I still live in Malang now. It is one of the most beautiful cities in East Java. I study at SMUK Kolese Santo Yusuf 2 and I am on grade tenth. Here, I live with my family. My father, Danny Hariyanto, is a great father. He always makes the whole family happy whenever he is at home. I love him very much. I also have many friends. They are Elvin, Evan, Joseph, Andreas, Surya, Yessa, Zadok, and many more. They always cheer me up when I get down. They are really my best friends.
I started learning English when my uncle gave me some English books on my 7th birthday. When he gave it to me, I couldn't understand any of it because the language is different. And then, I asked my aunt to teach me about English.
I think everyone will feel that English is difficult when they start to communicate in a different language that they don't know for the first time. It's very difficult but if we are used to speaking it, someday, we'll be a good speaker. Because it can be a great lesson for our future, especially for finding a job.
I will study in Australia. It has a good university and it is the nearest English speaking country from Indonesia. My hobbies are reading, chatting (e-mail), playing games, and playing basketball, I want to be a businessman.