TITI KAMAL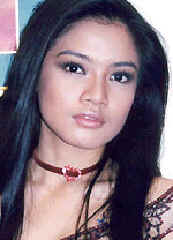 Titi Kamal started her career as a model. Titi has got long hair and a beautiful smile. Titi Kamal was elected as the sexiest actress according to a teenage magazine several years ago. Her success in modeling brought her to performing art.
She took a part in a film called Tragedi. Then, Titi Kamal performed in such TV series as Tirai Cinta, Cerita Cinta, Kembang Padang Kelabu, and Lilin Kecil. In 2002, she, together with Dian Sastro, acted in Ada Apa Dengan Cinta?
Titi Kamal likes performing art very much. She is also very fond of reading Maya Kitajima comic. Besides performing in films, she used to be a navigator in a car race with Rivat Sungkar as the driver. They got an accident at that time. Fortunately, she didn't get hurt.
Titi Kamal was born in Jakarta on 7 December 1981. Her parents are Kamal Badry and Elly Rosniaty. Titi Kamal has just finished her study in Stikom London School of PR where she majored in marketing. Titi Kamal is 169 centimeters and 52 kilograms. Now after starring Chanda, a famous TV series which also bears the same name, she starts playing Pura-pura Buta. Charles Roring
elect: memilih (pasif: terpilih)
according to: menurutperforming art: seni peran
TV series: serial TV/ sinetron
be very fond of: sangat menyukai
used to: pernah
car race: balapan mobil
accident: kecelakaan
fortunately: untungnya
as a matter of fact: sebenarnya
Botanical Garden with a Difference
Extra Terrestrial (E.T.) Returns
Global Warming - Frightening Report
MaudyKoesnadi: I Can Sleep Soundly
Papuan birds are facing extinction
The Presidential Election (PILPRES)
TITI KAMAL
Kalau Anda berminat menerima artikel belajar bahasa Inggris ini secara teratur, isilah FORMULIR BERLANGGANAN.