Jihan Fahira
"I want to carry on my study if I have more free time"
by Charles Roring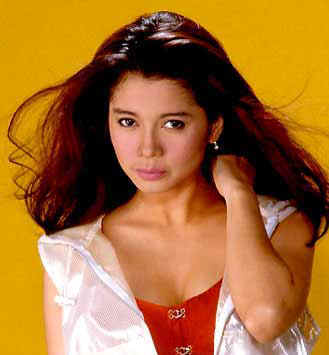 Jihan was born on January 6 1978. Her father's name is Sofyan, and her mother is Latifa. Jihan has two elder brothers and one sister. They are Intan, Luky and Verani. Jihan's friends say that she likes humor and she is smart. She grew up in Jakarta. When she was three years old, she starred a commercial that promoted milk product for infants. It was shown in cinemas. Her parents got divorced when she was six but her mother, as a single parent, has raised her with love.
Her mother says that Jihan is very potential to be a model. 'Although, Jihan is not tall, she is beautiful!', she said. At the end of 1993 when Jihan was 15, she was chosen as one of the finalists for cover girl of Gadis magazine. Since then, Jihan received offers for playing in a number of TV series and commercials. Her first part was in ANTV children series with the title Lain Sendiri.
Study
When she was still in SMA 3 Muhammadiyah Jakarta, she could manage her study and her shooting activity. Later, she entered the University of Moestopo. At this time, she was not able to manage her schedule. Then, she decided to carry on to Inter Study where she took Public Relation in 1997. She plans to continue her study in communication if she has free time.
Fondness
Jihan said that she has a long list of fondness. When she eats, she likes tempe goreng. Black and cream are her favorite colors. She also likes casual dress but she doesn't have favorite designers. Unlike other girls whose favorite singers are boys band and Britney Spear or Christina Aguielera, Jihan prefers oldies music especially the '60s. She also likes Sidney Sheldon.
Personal data
Name: Jihan Fahira
Date of Birth: Jakarta, January 6, 1978.
Weight/height: 45 kg/ 161 cm
Shoes size: 37
Waist size: 27
Perfume: Estee Lauder
Favorite figure: R.A. Kartini
Singer/Band: Broery Marantika/ Andy Williams
Sports: Fitness, jogging
Pets: Rabbits
Hobbies: billiards, playing cards
Opinion: I want to be a good housewife and a good actress.
grew up: tumbuh
star (verb): membintangi
infant: balita
divorce: cerai
schedule: jadual
decide: memutuskan
attractive: menarik
perform: tampil memerankan sesuatu
Botanical Garden with a Difference
Extra Terrestrial (E.T.) Returns
Global Warming - Frightening Report
Jihan Fahira
Papuan birds are facing extinction
The Presidential Election (PILPRES)